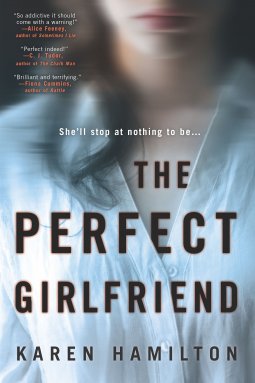 I was delighted to receive an ARC from Netgalley and Harlequin for The Perfect Girlfriend by Karen Hamilton. When I read that this book was THE MUST-READ THRILLER OF 2019… Perfect for fans of THE WOMAN IN THE WINDOW, ANATOMY OF A SCANDAL, and THE GIRL BEFORE – I knew I had to read it.
All I can say is, What a stunning debut!
Description
YOU'VE NEVER READ A LOVE STORY AS TWISTED AS THIS.
Juliette loves Nate.
She will follow him anywhere. She's even become a flight attendant for his airline, so she can keep a closer eye on him.
They are meant to be.
The fact that Nate broke up with her six months ago means nothing. Because Juliette has a plan to win him back.
She is the perfect girlfriend. And she'll make sure no one stops her from getting exactly what she wants.
True love hurts, but Juliette knows it's worth all the pain…
If you love someone, set them free.
If they come back, they're yours. If they don't, make them.
OFFICIAL BOOK DESCRIPTION:
The Last Mrs. Parrish meets Fatal Attraction in this riveting, voice-driven domestic suspense novel about a woman who will stop at nothing to reclaim her ex-boyfriend, including training as a flight attendant at the airline that employs him.
Juliette has everything going for her: she's young, pretty, and driven, and she's training for an exciting new career as a flight attendant.
The darkness in her past doesn't matter, because she's moved beyond all that, and she's building a great new life for herself—one that will impress her ex-boyfriend, Nate, who left her in a foolish moment of commitment-phobia, one that he surely regrets now. But he'll be so proud of her once he sees how much she's grown. And he will see her. After all, he's a pilot at the very same airline where Juliette is training.
What kind of man wouldn't appreciate the effort Juliette has taken to win Nate back? She cleans his apartment when he's not there, and makes sure to leave all his favorite foods in the fridge. It's only a matter of time before he leaves his airheaded new girlfriend and realizes Juliette is the only one for him.
He will realize it. Juliette will make sure of it. After all, she is the perfect girlfriend.
Juliette is the perfect girlfriend and she'll stop at nothing to get what she wants. Psychotic and twisted, she has a clever plan to win Nate back. After a few months 'giving Nate the space he needs' she reinserts herself back into his life. He's an airline pilot and she becomes a flight attendant with the same airline. The first half portrayed the training of a flight attendant where we see snippets of Juliette's obsessive behavior. Her love for Nate is not reciprocated and her intrusion into his life and other family events were fanciful and somewhat hectic.
But with a background of traumatic events ranging back to her school years, she is delusional and disturbed. Just enough to give us a taste of crazy.
After reading the blurb, I was expecting a wilder ride. Instead, I was surprised to find this book to be a much slower burn; a tamer version of psychotic than 'You' by Caroline Kepnes. But it still makes for a compelling read. There were a few distracting features. One: the draft copy was hard to read due to unedited sections and formatting. Two: the ending was a little unsatisfying in the same way Gone Girl left a few lose ends. But overall, it was a well written, engaging book.
Very many thanks to Netgally, Karen Hamilton and Harlequin for the Arc.
   UK:  https://amzn.to/2Aus0Fg         
  US:  https://amzn.to/2ReQYCY
About Karen Hamilton
I caught the travel bug after an early childhood spent abroad (Angola, Malawi, Zimbabwe, Belgium and Italy) and have worked as cabin crew for a major airline. In 2006, my husband and I put down roots in Hampshire and four years ago, I gave up flying to raise our three sons and concentrate on my writing. Now that they are a little older, I've begun travelling again (as and when it's possible) and enjoy exploring places through their fresh eyes.
The Perfect Girlfriend is my first novel (released March 2018). It is a psychological thriller about a sociopathic flight attendant, Juliette Price. The book is rooted in my work experience, but not autobiographical! I realised early on in my flying career, that the moment I changed out of uniform, I became anonymous. It made me think about the identities behind uniforms and work personas and became an idea that would later help create my protagonist.
When Juliette is dumped by her pilot boyfriend, Nate, her dreams of a 'happy ever after' are thrown into jeopardy. She vows to win him back, whatever it takes. She surreptitiously embeds herself into his life by adopting a new persona and securing a position as a flight attendant with the same airline. However, these are only the first steps in her master plan as she reveals just how far one woman will go to achieve her dreams.
The novel explores themes of guilt, envy and revenge.
Find Karen Hamilton on Amazon here