I can't tell you how much I enjoy reading all the Detective Kim Stone books. Each one keeps getting better and better, and all of them have been un-put-down-able police procedurals.
This story begins with the discovery of a young man and woman tied to a radiator in the same tower block DI Kim Stone was found when she was six. Is this a coincidence or something far more sinister? During the investigation, a second gruesome crime occurs—a copycat perhaps?—sent to torment Kim and throw her off her stroke. My review follows after a brief description of the book.
I was lucky to grab a copy of Angela Marson's newest book Dead Memories—out on February 22, 2019—from Netgalley.
Book Description
She ruined their lives. Now they're going to destroy hers.
'Someone is recreating every traumatic point in your life. They are doing this to make you suffer, to make you hurt and the only possible end game can be death. Your death.'
On the fourth floor of Chaucer House, two teenagers are found chained to a radiator. The boy is dead but the girl is alive. For Detective Kim Stone every detail of the scene mirrors her own terrifying experience with her brother Mikey, when they lived in the same tower block thirty years ago.
When the bodies of a middle-aged couple are discovered in a burnt-out car, Kim can't ignore the chilling similarity to the death of Erica and Keith – the only loving parents Kim had ever known.
Faced with a killer who is recreating traumatic events from her past, Kim must face the brutal truth that someone wants to hurt her in the worst way possible. Desperate to stay on the case, she is forced to work with profiler Alison Lowe who has been called in to observe and monitor Kim's behaviour.
Kim has spent years catching dangerous criminals and protecting the innocent. But with a killer firmly fixed on destroying Kim, can she solve this complex case and save her own life or will she become the final victim?
The heart-stopping and totally addictive new crime thriller from multi-million copy number one bestseller Angela Marsons will have you completely hooked.
Buy Links:    
  US: https://amzn.to/2SP8WfW    
  UK: https://amzn.to/2U08Bn2
Read what everyone is saying about Dead Memories:
'The book I've been waiting for without even knowing that I was… A great starting point for anyone new to the series… I couldn't put the book down…It is completely addictive and easily my new favourite in this series, I have a feeling I've said that before, but what can I say Angela Marsons seems to outdo herself each and every time.' Rachel's Random Reads, 5 stars
'As always, another brilliant book by Angela Marsons featuring Detective Kim Stone and her team… Fast-paced and dark it kept me gripped from the first page to the last. Utterly superb.' Goodreads Reviewer, 5 stars
'The author writes to such a consistently high level. Yet again, gripping plot line, strong characters and a well-paced story that builds to a crescendo. If you haven't already tried this author do yourself a favour and start reading now.' Worcester Source, 5 stars
I was thrilled to be approved by NetGalley and the publisher for a copy of Angela Marson's latest book. The past ties in with the present in this one and Kim is faced with a decision. To either accept the truth or deny it.
A young couple found chained to a radiator bring back a host of memories, mirroring a dark time in Kim's childhood. Although the case has startling similarities, it becomes very clear that someone wants her to relive the pain she once suffered, Kim is not unduly phased overall. The traumatic events of her childhood—a haunting theme throughout the series—has been summarized in this tenth instalment. But even though someone is 'picking at the closed boxes in her mind,' she is one of those exceptional people who takes strength in weakness. Tough, hard-wearing and deliciously assertive, she's certainly not immune to emotion.
There are former felons stoking hatred from behind prison walls and other cases to be investigated. With seamlessly thick, complex plots and a crime team to die for, you can't help loving these books for the way they're written. I like Alison for her bottle, Woody, who appears to get more devious by the minute and, of course, tolerant and unflappable Bryant. With a cast of capable characters returning with every 'episode', the uber-sharp Kim Stone has to be one of the best detectives out there. A twisty, fast-paced plot stocked with red herrings, Marsons aficionados will be very happy to add this book to their bookshelves alongside other Kim Stone novels.
This is a story with superior twists and turns, and a cast of excellent suspects, designed to keep the reader on their toes right up until the final page. It's a heart-stopping finale and goes to show how Marsons has become the Queen of Scream in her genre.
I do recommend reading these books in order to get the impact and flavor of Kim's life, but each book is a stand-alone and you'll definitely enjoy this one!
BIG thanks to Netgalley and Bookouture for the ARC. This is an honest review for a thoroughly enjoyable read.
About The Author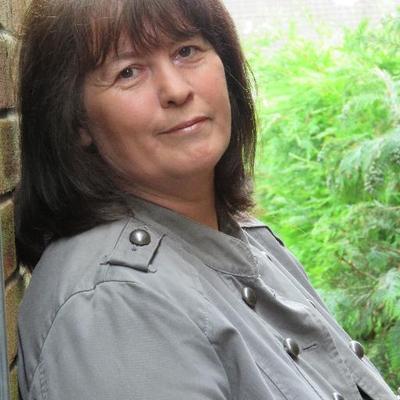 Angela Marsons is the Wall Street Journal and USA Today bestselling author of the DI Kim Stone series and her books have sold more than 3 million in 3 years.
She lives in the Black Country with her partner, their cheeky Golden Retriever and a swearing parrot.
She first discovered her love of writing at Junior School when actual lessons came second to watching other people and quietly making up her own stories about them. Her report card invariably read "Angela would do well if she minded her own business as well as she minds other people's".
After years of writing relationship based stories (The Forgotten Woman and Dear Mother) Angela turned to Crime, fictionally speaking of course, and developed a character that refused to go away.
She is signed to Bookouture.com for a total of 16 books in the Kim Stone series and her books have been translated into more than 27 languages.
Many of her books, including Blood Lines, Dead Souls, Broken Bones, Fatal Promise and Dead Memories reached the #1 spot on Amazon on pre-orders alone.