I was so lucky to receive an advance copy of Fallen Angels by Gunnar Staalesen. A credible and dark page-turner with a relentless pace. Vivid, taut and evocative, this book had my pulse racing from start to finish.
Description:
Ever-dogged Bergen PI Varg Veum has to dig deep into his own past as he investigates the murder of a former classmate. Vintage, classic Nordic Noir from international bestselling author Gunnar Staalesen.
Description: When Bergen PI Varg Veum finds himself at the funeral of a former classmate on a sleet-grey December afternoon, he's unexpectedly reunited with his old friend Jakob – the once-famous lead singer of 1960s rock band The Harpers – and his estranged wife, Rebecca, Veum's first love.
Their rekindled friendship come to an abrupt end with a horrific murder, and Veum is forced to dig deep into his own adolescence and his darkest memories, to find a motive … and a killer.
Tense, vivid and deeply unsettling, Fallen Angels is the spellbinding, award-winning thriller that secured Gunnar Staalesen's reputation as one of the world's foremost crime writers.
Paperback : 276 pages
ISBN-10 : 1913193063
ISBN-13 : 978-1913193065
Publisher : Orenda Books (March 1, 2021)
PI Varg Veum reunites with a former friend Jakob at the funeral of Jan Petter in Bergen. The reunion brings back old memories of former classmates, some of whom have already died, but none, as it turns out, from old age.
Deciding to go for a pub crawl with their friend Paul Finckel, they reminisce about the past. There's a melancholy mood to the opening chapters as if the 'group' are trying to reclaim their youth, trapped in an eddy of musical memories of The Harpers for which Veum was a roadie. They drink and carouse the night away, while 'valleslette' – sleet and biting winds and a few degrees above zero – sets the tone. Even though there is no life on the fjord there is always the Beetles…
Jakob asks Veum to search for his wife, Rebecca, a girl who grew up with Veum in Nordnes in the 60s. Thinking she may have run off with Johnny Solheim, Veum makes inquiries. But Johnny has a wife and claims he hasn't seen Rebecca.
A few hours in another Sodom and Gomorrah type watering hole 'where Caligula would have felt at home,' Veum finds a heap of bad news outside. Holed up in a tight space and dreaming of the Rebecca he once knew, he is forced to answer a few questions. As another picture of an angel surfaces, Veum's sharp instincts recognise the deaths may be connected. What did happened after the dissolution of the band? Someone is carrying around an awful secret and with Staalesen's great sense of pacing, the reveal was phenomenal.
Fallen Angels is a remarkable example of its genre. The religious and psychological aspects bring deeper layers to the novel as told in powerful prose. It's an elegant and complex thriller, meticulously laid out with a corkscrewing plot. The characters are well-drawn and mysterious, and the protagonist takes us on a wild ride with vivid scenes of Norway in December and its snowy, sleet-grey skies. There's no doubt about it: Staalesen belongs on every crime fiction reader's bookshelf.
My thanks to the publisher, Orenda Books, the author, Gunnar Staalesen and Anne Cater, blog tour organiser for the privilege of reading an advance copy of this book.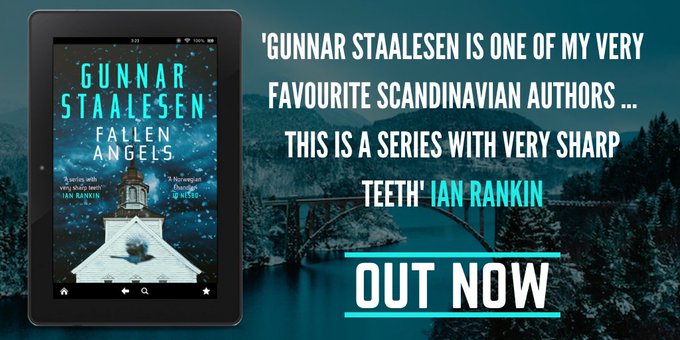 Praise for Gunnar Staalesen
'Gunnar Staalesen is one of my very favourite Scandinavian authors. Operating out of Bergen in Norway, his private eye, Varg Veum, is a complex but engaging anti-hero. Varg means "wolf " in Norwegian, and this is a series with very sharp teeth' Ian Rankin
'The Norwegian Chandler' Jo Nesbø
'Not many books hook you in the first chapter – this one did, and never let go!' Mari Hannah
'Staalesen continually reminds us he is one of the finest of Nordic novelists' Financial Times
'Chilling and perilous results — all told in a pleasingly dry style' Sunday Times
'Staalesen does a masterful job of exposing the worst of Norwegian society in this highly disturbing entry' Publishers Weekly
'The Varg Veum series is more concerned with character and motivation than spectacle, and it's in the quieter scenes that the real drama lies' Herald Scotland
'Every inch the equal of his Nordic confreres Henning Mankell and Jo Nesbo' Independent
'Mature and captivating' Herald Scotland
'One of the finest Nordic novelists – in the tradition of Henning Menkell' Barry Forshaw, Independent
'Masterful pacing' Publishers Weekly
About the Author
One of the fathers of Nordic Noir, Gunnar Staalesen published the first book in the Varg Veum series in 1977. He is now the author of over 20 titles, which have been published in 24 countries and sold over four million copies. Twelve film adaptations of his Varg Veum crime novels have appeared since 2007. Staalesen has won three Golden Pistols (including the Prize of Honour), Where Roses Never Die won the 2017 Petrona Award for Nordic Crime Fiction, and Big Sister was shortlisted in 2019.
Other Books by Gunnar Staalesen